October 1st, 2010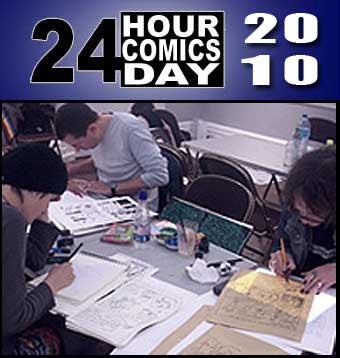 34 States! 19 Countries! One Challenge.
Can you climb the Mount Everest of Comics?
September 24th, 2010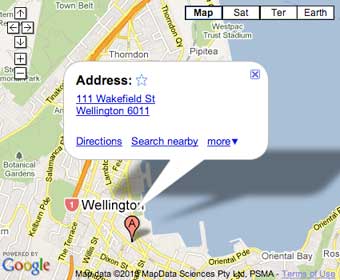 …the whole family is coming your way in February for Webstock! I'm assured it's the mostest bestest scientifically proven amazingest conference ever, so if you're in the web design field or anything like it, convince your boss to let you to register today.
We'll have more details on our trip in the coming weeks, but rest assured, we're already slated to visit one of New Zealand's greatest tourist attractions, the mighty Dylan Horrocks, before heading home.
As for the near future (and a slightly nearer destination) I'm off to NYC Saturday for next week's Education Nation Summit. Back to Blogging next Friday. Have a great weekend!

September 21st, 2010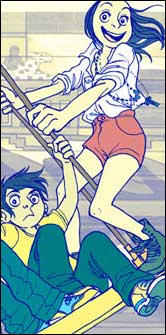 Delighted to realize yesterday that Jen Wang's eagerly anticipated first graphic novel Koko Be Good came out just last week.
Fortunately, if you're in the Los Angeles area, you can still catch the LA release party at Secret Headquarters this Friday at 7:30pm, and be one of the first to buy a copy.
(And if you're not, there's always the Interwubz.)
Been salivating for this one ever since this effective little video hit earlier this year. Can't wait to get my hands on the real thing!
September 20th, 2010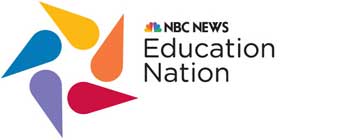 I'm heading back to New York next week for NBC's Education Nation Summit, a broadcast public forum on a variety of issues surrounding education in the 21st Century, held in Rockefeller Plaza.
I was actually invited a while ago, but was holding off a bit on an announcement until I had a better idea of what I'd be doing there. As it turns out, I'll probably be doing little or no talking and a whole lot of listening (which is a nice change of pace, actually) but it should be an interesting couple of days, nevertheless.
It starts a week from today. I encourage everyone to listen in, since big chunks of the event will be broadcast or at least webcast by NBC in its various incarnations.
And in case you're wondering why me, most of the invitees (roughly 300 of us) are directly involved with education (MIT's president Susan Hockfield, for example), but they've also cast a wide net that includes other fields like politics, sports, music, and apparently comics.
Life is strange… but increasingly interesting.
September 14th, 2010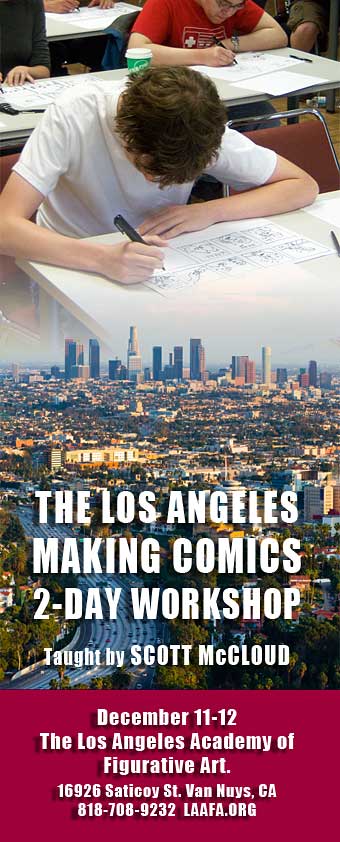 This is the full 2-Day Workshop (given most recently at School of Visual Arts in Manhattan). 16 full hours of everything I can teach you through lectures and hands-on exercises.
An intense look at the art of telling stories visually.
Here's the link to SIGN UP. As always, availability is limited. See you in December!
September 6th, 2010
A bit under the weather, so real blogging will resume tomorrow.
In the meantime, here's a thought experiment that crossed my mind this morning: If Walt Disney had been a much better animator, would he have gone on to be a cog in someone else's machine?
August 12th, 2010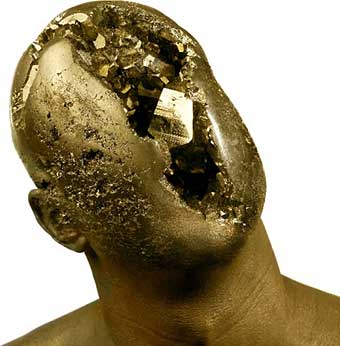 If you love creative, cutting edge comics and can be in London anytime from today until September 26, don't miss the Hypercomics exhibit The Shapes of Comics to Come at the Pump House Gallery in London's Battersea Park. It sounds (and looks) like a fascinating, site-specific exploration of comics' outer boundaries. Admission is Free.
Curated by "The Man at the Crossroads" himself, Paul Gravett, and featuring the prodigious brains of artists like Dave McKean and Daniel Merlin Goodbrey, this is sure to be an unforgettable experience.
(And one that I'll miss, dammit, so somebody take lots of pictures if you can!)
The exhibit is part of the Comica Festival. I stopped by and caught a bit of last year's and had a great time. Check out their main site for more details on upcoming events.
August 6th, 2010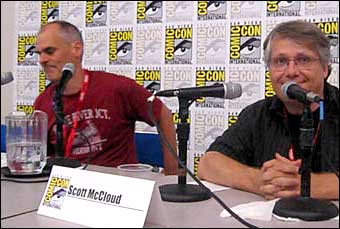 Haven't listened again myself yet, so there's a chance I made a fool of myself, but I enjoyed talking with James Sturm on our Friday Comic-Con panel and I think some interesting points were raised.
Courtesy of TCJ, here's the audio of the panel (and photo by Kristy Valenti).
August 2nd, 2010
Yesterday, Winter celebrated her 15th Birthday with her friends, and today with the family so I won't be posting much.
Ivy's retelling of Winter's legendary birth from last year is here, but if you're short on time, the night was nicely summed up yesterday in two tweets.
Happy birthday, Winter!
July 30th, 2010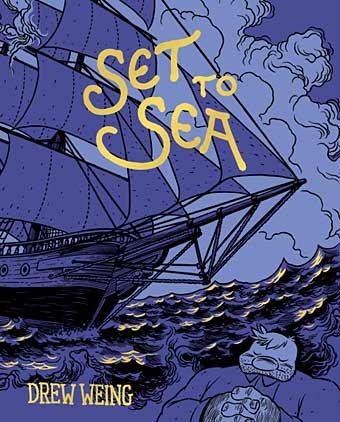 One of the comics I read on my way home was Drew Weing's Set to Sea. I'd been seeing pages of it on Drew's website for awhile but reading it in book form was a delight. Highly recommended.
If you're in Athens, Georgia tonight (Friday), you can get a copy from the author himself at the release party from 5-8pm.
Funny thing is, when I thought to make a remark on how Athens is landlocked and checked Google maps to see if Athens was indeed landlocked, I discovered that there is no label in Google Maps for Athens!
WTF, Google Maps??
[UPDATE: There actually is an explanation—and it's not what you might expect.]