January 17th, 2011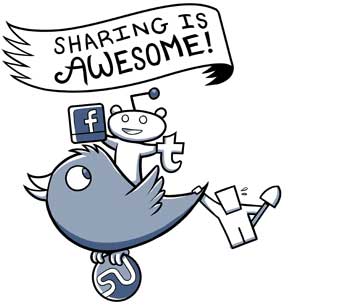 Here's a great flowchart comic about link sharing from H Coldwell Tanner and Roscott.
There should be more flowchart comics! These things are cool.
January 14th, 2011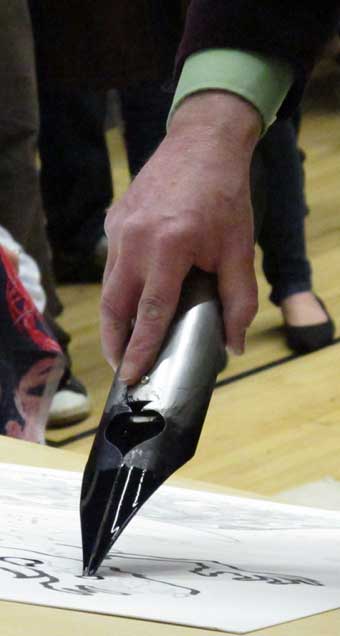 Congratulations to Jim Woodring for actually building and using that big-ass pen I told you about a while back! Some pictures via Bart Beaty here and a video here (links via twelve zillion people, but I think I read about it on Comics Reporter and the Beat first).
Another notable new webcomic to check out: Doug Tennapel's Ratfist (thanks to Corey Mcdaniel for the heads-up). Also realized that Kris Dresen's She Said is gathering steam. Hop on board before its done.
And via Snail Mail, two books about comics:
The comics-format To Teach: The Journey in Comics by Bill Ayers (yes, that Bill Ayers apparently) and Ryan Alexander-Tanner, which looks intriguing, and The Rise of the American Comics Artist: Creators and Contexts, which I have an interview in, but looks plenty interesting anyway.
Finally, congratulations to Sarah Oleksyk on the publication of the collected Ivy. I've read them all, but I'm happy for the excuse to read them again.
Have a great weekend!
January 13th, 2011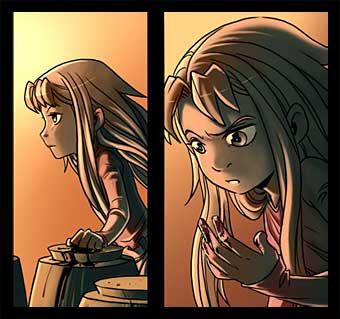 Well, it looks like this is turning into Promising New Talent Week!
Unsounded by Ashley Cope has a great mix of humor and drama, engaging characters, and the artwork gets better as it goes. Never heard of her, so yet another (presumably) young artist to keep our eyes on.
I'm consistently amazed by how many smart, talented new artists there are out there. It's a shaky market and one might worry about how they'll all make a living, but I'm encouraged that most seem to have the right skill set to not only cater to the readers we have now, but to create new readers, the way that Jeff Smith and others have over the years.
Unsounded seems to have begun about 5 months ago. I wonder what else I'm missing.
Any other suggestions?
[via Michael]
January 12th, 2011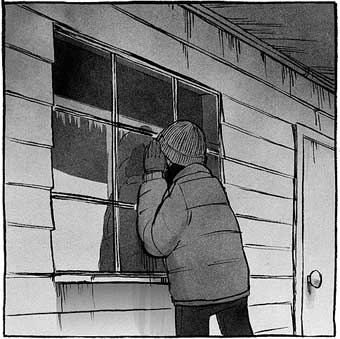 Here's another cool comic I became aware of (thanks, Julian) over the break.
Nothing is Forgotten by Ryan A. is a silent comic thrown up on Tumblr that has some pretty effective sequences (I especially like the way he uses windows).
Ryan takes his time building the mood of the story with a lot of small moments. More panels means more work, but he's willing to take the time and effort to get his readers involved and the comic builds momentum as it goes.
Ryan offers some info on his process here.
Six days ago, when Ryan posted the final installment, the first comment he got was this:
"Dude, I'm Saudi guy who don't speak English that well, and I really enjoyed the story..
Simple and deep… Art talks in global way…"
I agree.
January 11th, 2011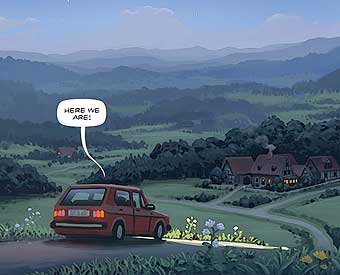 By far, the most impressive comics event while I was on break was the debut of Daniel Lieske's online graphic novel The Wormworld Saga.
Lieske works at a German computer and console games company, and he's obviously had years to hone his craft, but he's a brand new name to me, and I'm glad to make his virtual acquaintance.
Despite coming out on Christmas day, when most potential readers were presumably distracted, the comic has garnered upwards of 200,000 viewers in less than three weeks, and deservedly so. It features solid storytelling and some gorgeous painted artwork. It's also the best use of extended canvas storytelling I've seen in years.
Most impressive is Lieske's all-encompassing sense of place; that rare sensation of becoming engulfed in a fully-realized new world. This is partially due to Lieske's skills as a painter, but also to his smart use of extended establishing shots that blend into the black background behind other panels.
Set aside some time to read the first chapter. You'll be glad you did. And if you like what you see, you can support the comic here, or contact him for work or a possible appearance here.
Oh! And congratulations to Daniel and his wife on the birth of their son yesterday! A busy month for a great new comics talent.
January 10th, 2011
For years, Ivy and I have wanted to celebrate her birthday with a Cruise, and for her 50th last week we did just that. Luckily for us, one of the nerdiest cruises to ever sail the seas came along just in time.
The JoCo Cruise Crazy was a great week of on-ship entertainment featuring Jonathan Coulton and several other nerd demi-gods including John Hodgman, Peter Sagal, Molly Lewis, Wil Wheaton, Bill Corbett & Kevin Murphy, Paul and Storm, Mike Phirman and others. Over 24 hours of programming and never a dull moment.
I was already indebted to Jonathan and John for taking time out at Neil Gaiman's 50th birthday party in New Orleans last month to comfort Ivy when I was rushed off to the hospital. They both remembered her as well on the cruise, and we got to spend some extra time talking to John, Bill and Kevin, who are comics fans in addition to being all around nice guys, and incredibly funny.
Also on the ship were two webcartoonists, David Willis (who was celebrating his honeymoon with the lovely Maggie) and evil genius David Rees. Rees' comedy was a thing of wonder. As our hero Peter Sagal put it: "I don't know what he does, but he does it really well."
(Willis was wearing an Axe Cop shirt when he met Sagal, btw, and Sagal recognized it right away. NERD! <3 )
Watch for Ivy's two part write-up on the cruise at her blog later in the day. She'll have a lot more detail than me.
I'm returning to blogging today after an extended winter break. A lot has happened in the world of comics in the last couple of weeks, some of which I hope to get to in the next few days, but for now, I hope you all had a great New Year celebration—and will have a great year to go with it.
December 15th, 2010
Sick day.
Don't even ask.
In the meantime, though, go read Mike Dawson's great Troop 142. Now online in its entirety [via Tom].
December 14th, 2010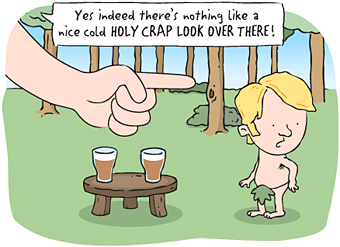 I probably shouldn't be looking at comics this funny while still recovering from Monday's stent placement—some of these jokes could kill me—but you guys can safely browse the archive if you're in good health.
In other news, looks like I'll be heading to Iowa State University next month! Details shortly.
[link via Kelly Thompson at CBR]
December 13th, 2010

Thanks to all the great students who came out for this weekend's workshop at LAAFA! You guys were a joy to work with.
A couple of benefit comics out there this week: Panels for Primates (promoting primaterescue.org) and this call for submissions for an anthology to help promote anti-bullying awareness.
I like this handy round-up of UK artists. Anyone want to attempt it with other countries and create single portal?
This is medical wrap-up week, with two or three procedures planned to hopefully put both my kidney stone and arterial fall-out to rest. Wish me luck.
December 7th, 2010