The McCloud Tour - June 26 - July 5
Portland, Oregon: Comics Mecca!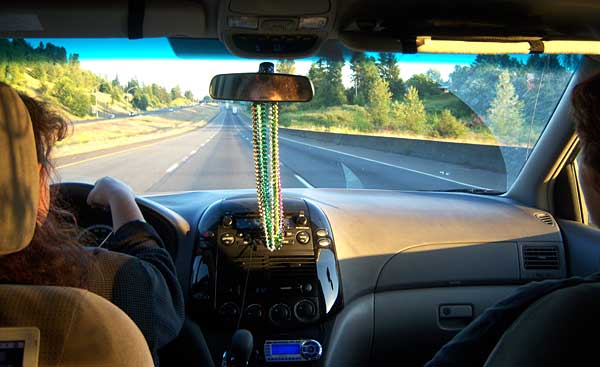 Driving down from Vancouver. Alice took the front passenger seat. (Note the Mardi Gras beads. One of these days I'll get those pictures online too.) We got in Monday night, in time for a Tuesday morning radio interview for KBOO's Words and Pictures (listen here!)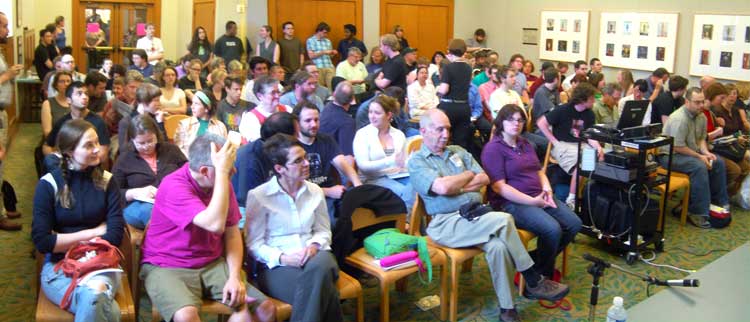 Wednesday's super-crowded library panel. They actually had to call security when friends and fans who couldn't get into the too-small room got grumpy. Some great photos of the panel itself can be found half-way down this page.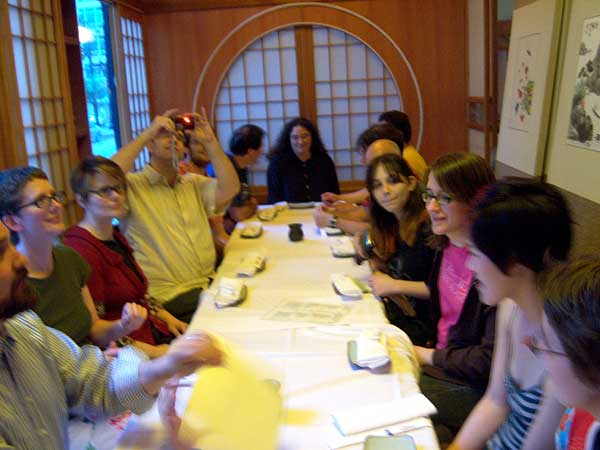 Just some of the Portland area cartoonists at dinner that night. I'm not going to try to identify them all in order here, but some of the Portland comics luminaries present included Jenn Manley Lee, Steve Leiber and Sara Ryan (who organized the great library panel and warned them they'd need a bigger room), Patrick Farley, Dylan Meconis, Vera Brosgol, Jen Wang, Shannon Wheeler, Garret Izumi, Amy Sacks and half a dozen other brilliant artists, writers, photographers, friends, loved ones, etc...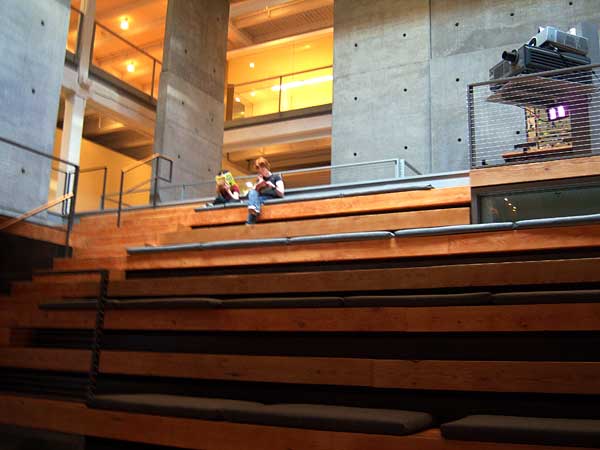 Thursday. Alice and Sky wait in the bleachers at Wieden+Kennedy while we worked out AV wrinkles for that night's lecture. W+K was a wonderfully strange venue with two high jumbo screens playing to two sets of bleachers. Projector trouble kept us quite busy that day, but in the end it worked out just fine.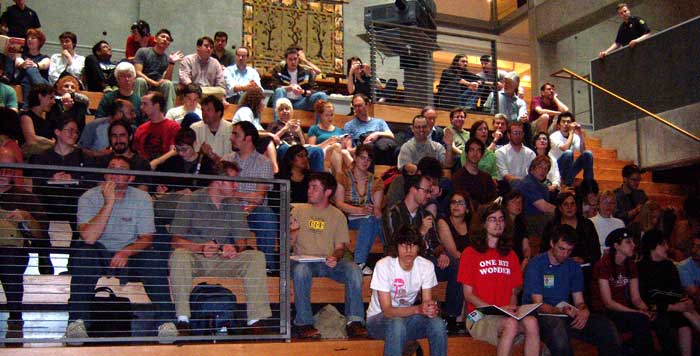 The sold-out crowd gets ready for the talk -- introduced by esteemed cartoon journalist Mike Russell!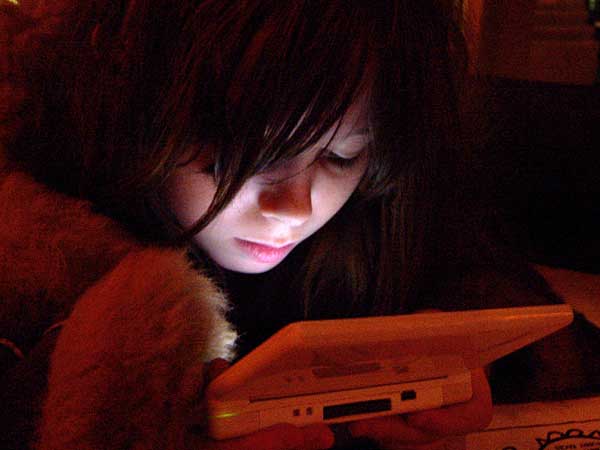 Winter at dinner that night.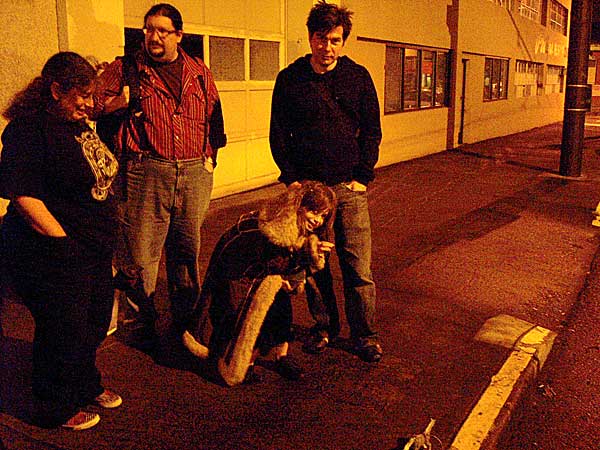 Ivy, Barry Deutsch, Winter and Patrick Farley (looking rather sinister) stop at one of Portland's peculiar sidewalk attractions --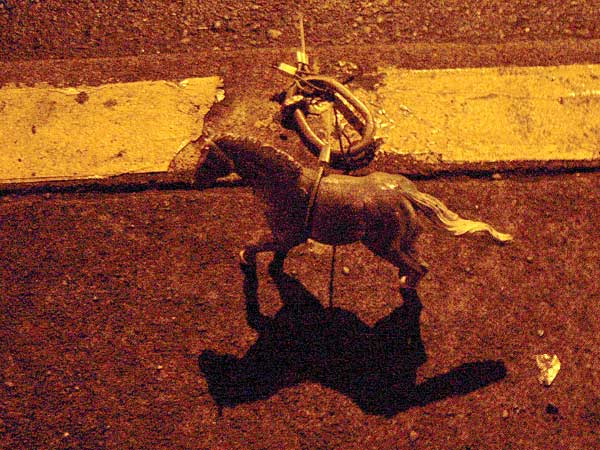 -- tiny plastic horses attached to the old metal rings used to tie up real horses as late as the 1920s!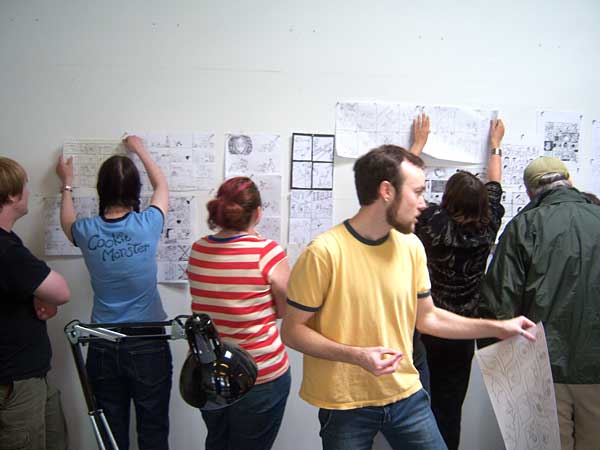 Friday: Starting my two-day workshop Comics: Theory and Practice sponsored by PNCA. A talented and energetic class!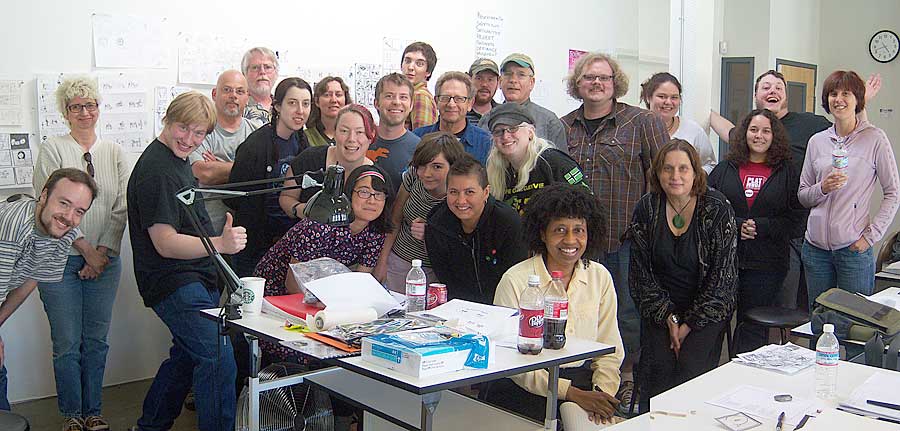 Group shot.







Friday evening. Hanging out at Periscope Studios (formerly Mercury Studios) with still more brilliant cartoonists. They bought us food and everything. Then we all went out to see Ratatouille.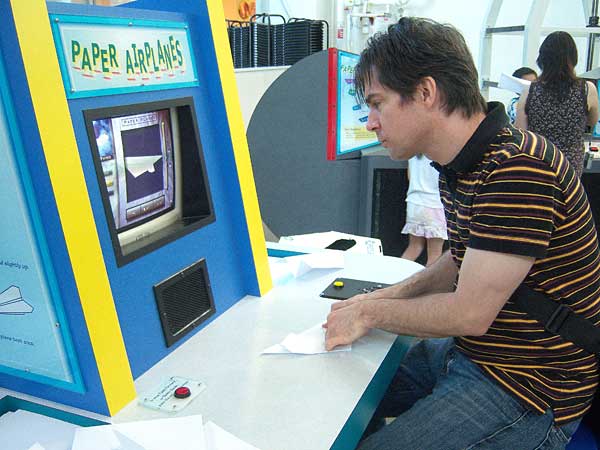 Monday at the science museum. Patrick is determined to follow their paper airplane-folding instructions.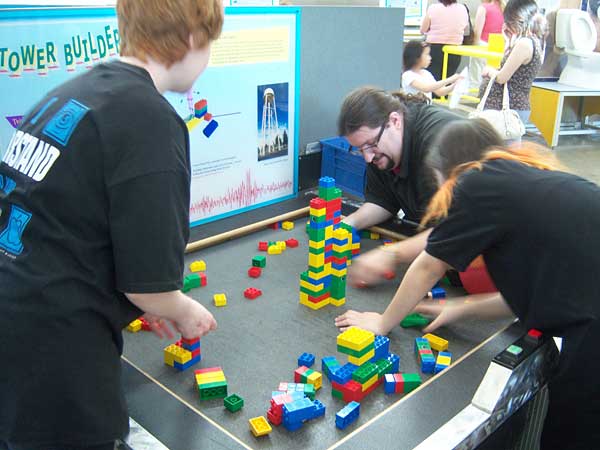 Can Alice, Barry and the kids contruct an earthquake-proof Lego Block Water Tower?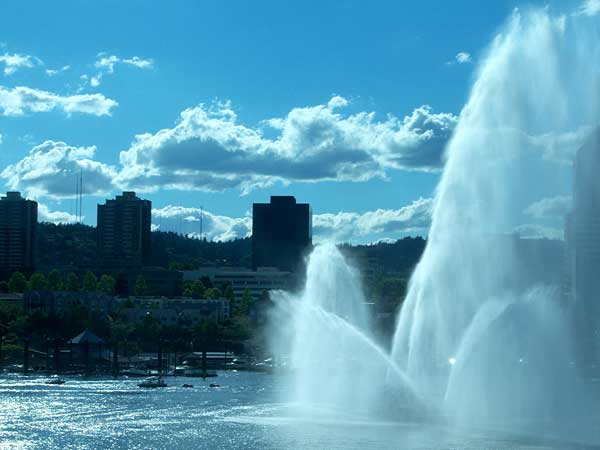 Some kind of crazy big fountain boat was puttering around on the river outside. Beautiful and strange.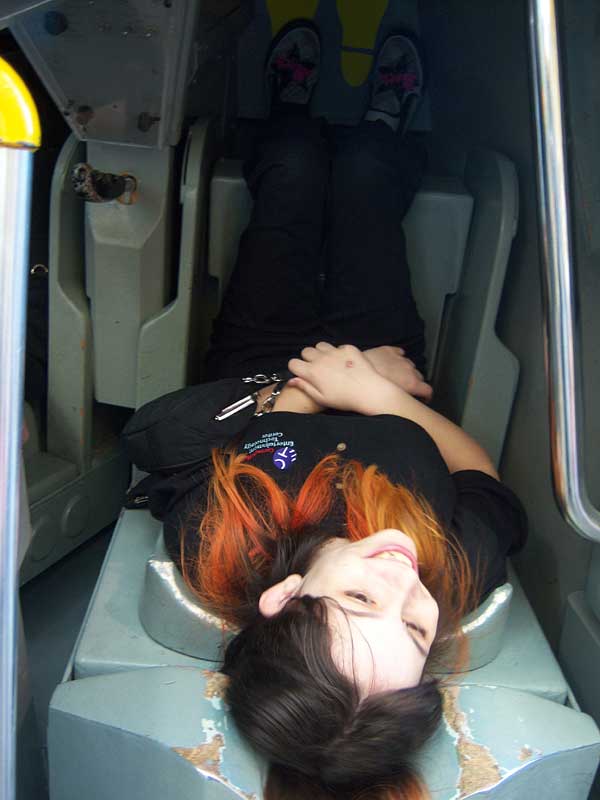 Sky prepares for space travel.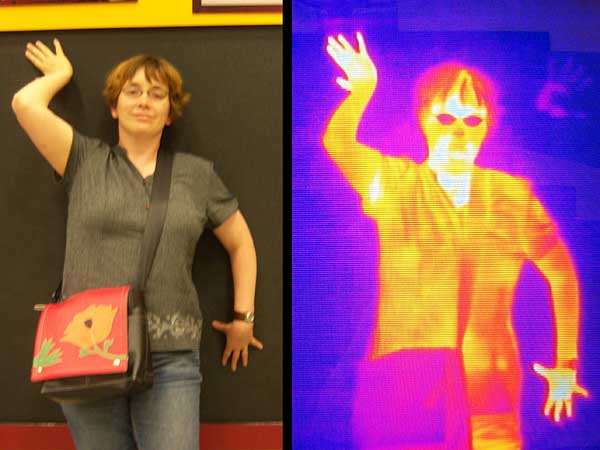 Jenn Manley Lee has her heat map measured.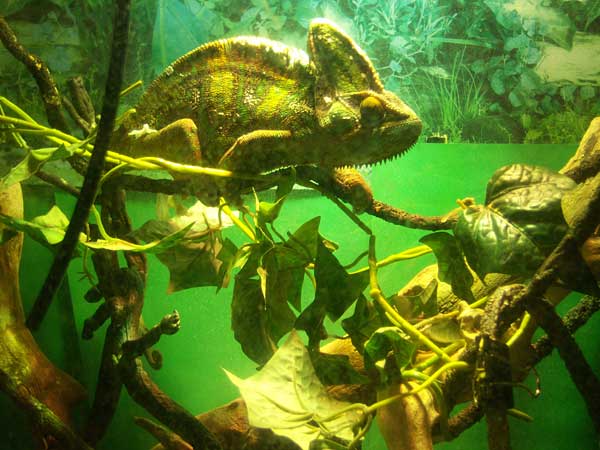 One beautiful lizard.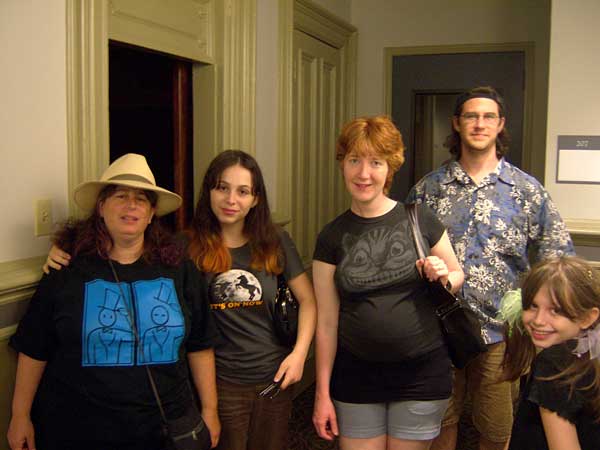 Tuesday night (July 3), Indigo Kelleigh (second from right) puts together a great bash at Fashion Buddha Studios where he works (Thanks, Indy!)





Some more shots from the party, which included visits from our old friends Kurt Busiek and his wife Ann (first two pictures), Erika Moen (top right), David Chelsea (bottom right), Les McClaine, lettering legends Tom Orzechowski and L. Lois Buhalis, Lee Moyer, Carolyn Main and studio founder Robert Lewis. Plus dozens more not pictured, including most of the artists already listed from the above-mentioned events.
There was Wii. And Pizza. And donuts. And Portlands first elevator. What a night!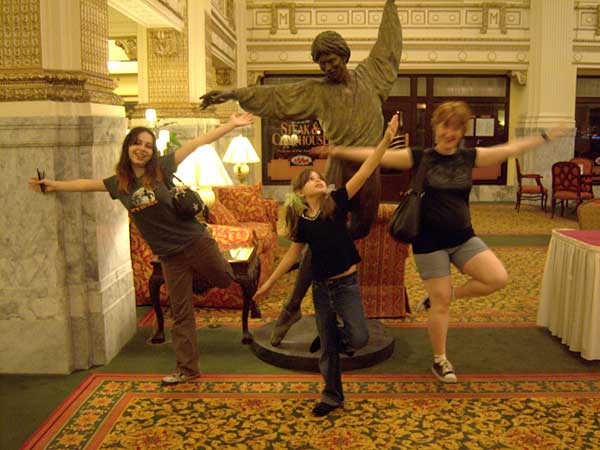 In our surprisingly swanky, old world-style hotel lobby -- with the dancing statue nobody could identify (Nureyev, maybe?).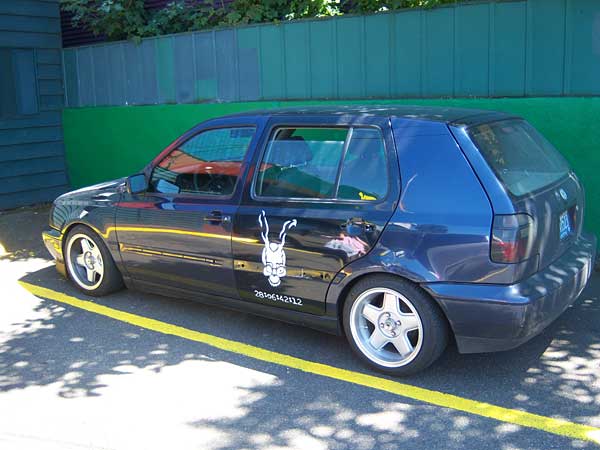 A Donnie Darko fan's car parked outside a Subway. Portland is crawling with fans of all stripes!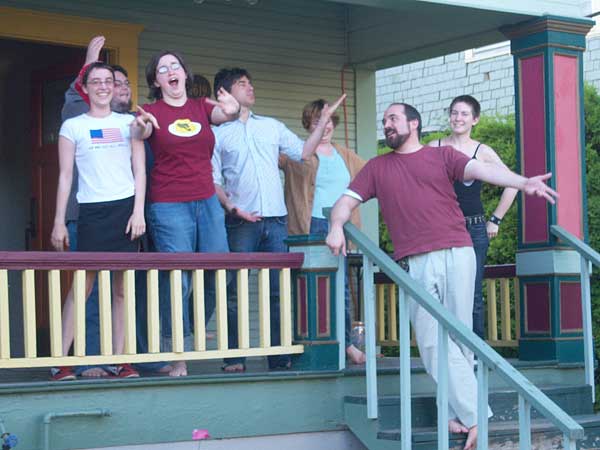 On the porch of Jenn and Kip's house, after our July 4th gathering where we all watched 1776 -- courtesy of Dylan and Anne Maloney -- cause we're all total nerds of the nerdiest kind.
Sadly, I totally failed to get pictures of the previous week's porch party where even more comics artists showed up (including Craig Thompson).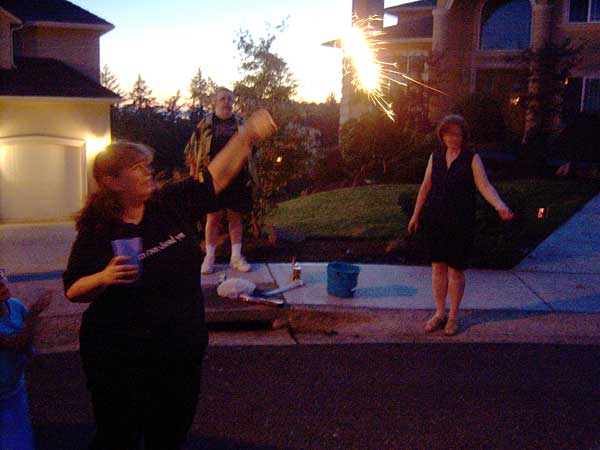 That night, July 4th, we spent with Kurt Busiek and his wonderful family (Ann, Sidney and Katie). I failed to get any good pictures of Kurt, though you can see him in the background here as Ivy and Ann play with sparklers.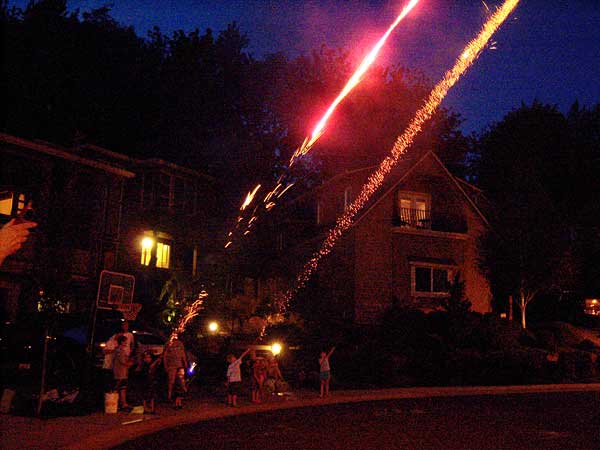 Kurt's neighbors display their own firepower.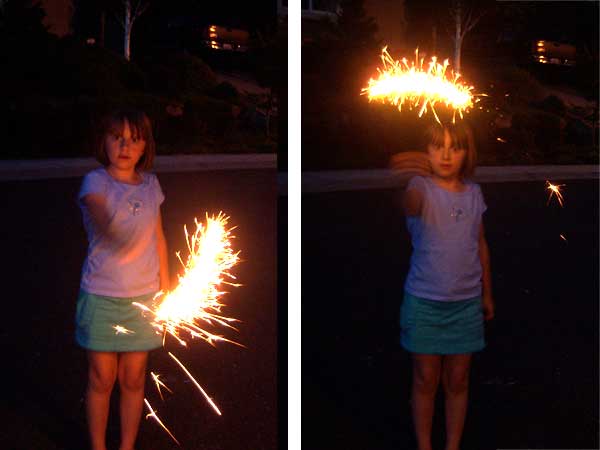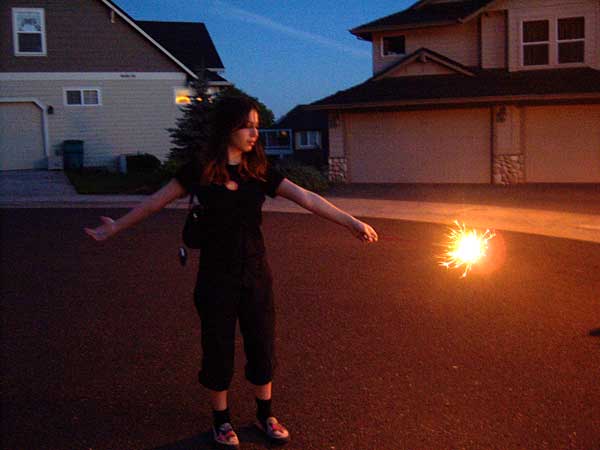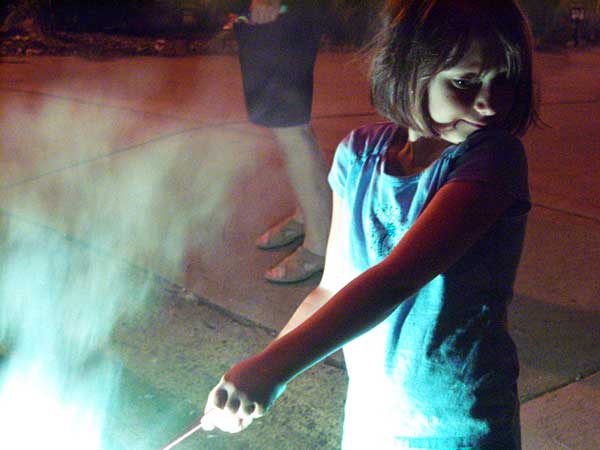 Ann, Sidney and Sky.
Later, watching from Kurt and Ann's hillside porch, we could see hundreds of home-made fireworks and dozens of professional displays in both Oregon and Washingon State, rising up like dandelions across the horizon. An unforgettable sight.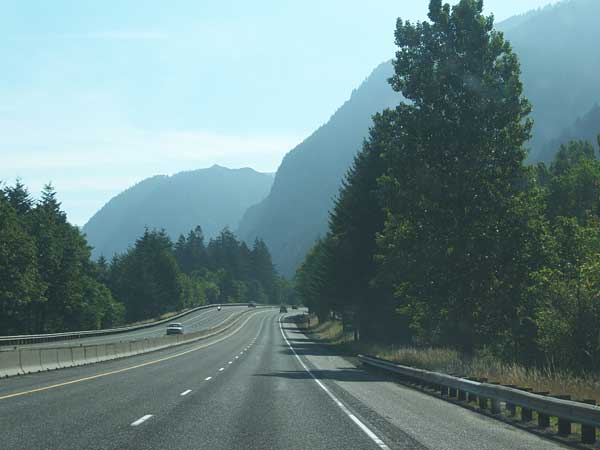 Finally, we packed up, said a reluctant farewell to Portland and hit the road once more.
Next: The Mad Dash!