What Was That Slide?



---

Hello again!
If you've reached this page, you've probably just attended one of my visual lectures and may have some questions about some of the images that you've seen (often just for a second or two).
Please note that my talks change over time, so there's a chance that some of these may not have appeared during the presentation you saw; and this is not a comprehensive listing of the hundreds of images that make up my slideshows. These are just some of the images that tend to linger for some and/or provoke questions.
Faces in things
Twitter: @FacesPics
(Picmoticon.com, sadly, seems to be offline at the moment)
That creepy painting of Homer Simpson
...is by Roberto Parada

Man having a heart attack in the city while crowd watches
...is by the seminal 20th Century cartoonist Will Eisner and can be found in this big collection from Norton.

Donald Trump with just a mouth
Scary, funny, or both—you decide.
Those facial expressions charts
...were from Chapt 2 of my 2006 book Making Comics
Facial expression slider widget
The Grimace Project
Facial expressions: Family at the dinner table
Read the whole comic in Kyle Baker: Cartoonist Vol 2
Some funny infographics and related sites
Pregnant Women/Wifi
Terrifying/Ambiguous Warning
Hodgman on Hotel Sign
Women Laughing Alone with Salad
(gone a bit meta lately, but the original photos should be in there somewhere)
That terrible fire safety diagram
My original Twitter posting with lots of funny replies
Some truly great graphic explanations (shown only briefly in the talk)
An eloquent, wordless 2 minute ergonomics primer
Mariano Rivera's Pitching explained brilliantly by the NYTimes
The late Hans Rosling's classic 2006 TED Talk (Oh, those first 5 minutes!)

The new, more active wheelchair symbol
Advocacy Site
Great 99% Invisible episode on the subject

That inspiring step-out-of-the-panel scrolling comic by the Norwegian girl
Her name is Ida Eva Neverdahl. Original Deviantart posting of the comic is here. Her Instagram is here.
A few other interesting scrolling webcomics
Boulet (France): Our Toyota was Fantastic
Drew Weing (U.S.): Pup Ponders the Heat Death of the Universe
Me: The Right Number
Emily Carroll (Canada): His Face All Red
Patrick Farley (U.S.)*: The First Word
Demian5 (Switzerland)*: When I am King
Bongcheon-Dhong (Korea)**: Ghost
Daniel Lieske: Wormworld Saga
*NSFWsex **NSFWsound/scary

That slide with all the graphic novel covers
Image below.
Some are described in the next section, but for completeness' sake...
Clockwise from upper left:
Jimmy Corrigan: The Smartest Kid on Earth by Chris Ware
Tamara Drewe by Posey Simmonds
Epileptic by David B
Fun Home by Alison Bechdel
Persepolis by Marjane Satrapi
Asterios Polyp by David Mazzucchelli
You'll Never Know: Book One by Carol Tyler
Weathercraft by Jim Woodring
A Drifting Life by Yoshihiro Tatsumi
Market Day by James Sturm
Locas II by Jaime Hernandez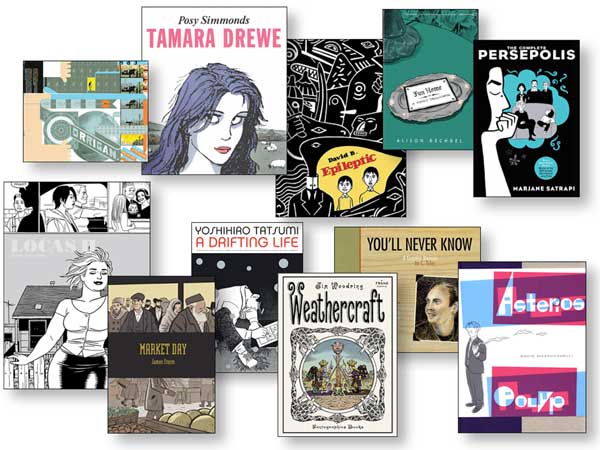 …and for Teachers
Here are just a few of the comics (beyond more well-known classics like Maus, Fun Home, Persepolis, Watchmen, Jimmy Corrigan, etc) that I can suggest for use in the classroom.
City of Glass, adapted from Paul Auster's short story by Paul Kurasik and artist David Mazzucchelli. Short (affordable!) paperback, but mind-blowingly fun to analyze in a class setting. Perfect for book clubs. My choice for most teachable GN yet.
[Brief nudity.]

This One Summer by Mariko Tamaki and Jillian Tamaki
Dreamy coming of age story with masterful pacing, art, and visual storytelling. Some mature content, but in keeping with older YA content. My favorite GN from the last few years. A Caldecott Honor Book.
[Discussions of Sexuality among teens.]

Boxers and Saints by Gene Luan Yang
The Boxer Rebellion as seen from both sides in a handsome two-book boxed set. Yang recently received a well-deserved MacArthur "genius" grant. B&S is a step up in terms of complexity and mature content from his celebrated American Born Chinese. A strange and sometimes violent pair of books, but utterly fascinating, offering lots to talk about.
[Bloody Conflict]

March: Book One by Rep. John Lewis, Andrew Aydin, and Nate Powell
Fantastic book for this moment in American history; John Lewis' journey from young activist to congressman is expertly rendered by Aydin and Powell. Especially fun if paired with the comic book about Martin Luther King that Lewis himself credits with inspiring him all those years ago. Comparing the two could be a unique opportunity to compare the two eras, both politically and aesthetically. You could even toss in Ho Che Anderson's ambitious King, published roughly between the two (in 1993) for some heavy triangulation.

The Arrival by Shaun Tan (wordless)
I strongly suggest starting any general comics-appreciation course with a silent work to force students (and teachers!) to engage with the pictures as storytelling, not just as "illustrations." Tan's gorgeous picture-book renderings tell a heartfelt, universal story of what it means to be an immigrant in a strange new land; an experience Tan himself had as a youth, moving from Malaysia to Australia.

Flood!: A Novel in Pictures by Erik Drooker (mostly wordless)
I love to teach the title story! So much being communicated almost exclusively through images in this lyrical, apocalyptic, morality play from the '90s. A throwback to early 20th Century woodcut novels—done all in frantic scratchboard.

Tamara Drewe by Posey Simmonds
A dense, wordy, yet somehow breezy story of a writer's retreat by British master storyteller Simmonds. Made into a pretty good movie, but the GN is the more impressive achievement.
[Brief nudity]

Drama by RainaTelgemeier
If you teach younger students, you've probably run into Raina's mega-hit dental-themed autobio Smile. I love Smile, but I love Drama more. It's for kids, but it's not JUST for kids, and the silent storytelling has a lot of depth and nuance. Great middle-school drama club setting.
[Sexual Identity Themes]

Anya's Ghost by Vera Brosgol
Master storyteller Brosgol's YA book about assimilating, by way of a charming, if spooky, ghost story.

Market Day by James Sturm
A Jewish rug merchant confronts the onset of the industrial revolution and questions his dedication to his craft. A bulletproof story, told simply, but with extraordinary power. I wish this book was more widely known.
[Adult themes, brief nudity]

The Nao of Brown by Glynn Dillon
British GN with some stunning, naturalistic art, and an inventive, unusual story, touching on themes of mental disorder.
[Adult themes]

In Real Life by Cory Doctorow and Jen Wang
One of the few GNs I've read that really captures this moment in society and technology. And I freakin' LOVE Wang's art. Solid YA title.
***

That's all, until I think of some more!
Thanks for watching and listening.
— Scott McCloud

October 2017