Public Speaking
and Teaching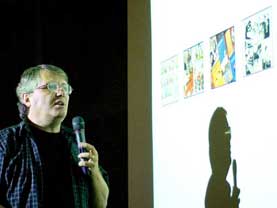 At Texas A&M, 2007. Photo by Peter Franklin for The Daily Texan

Since 1994, I've given hundreds of visual lectures at universities, computer events, corporations, museums, cultural festivals, and government organizations. And starting in 2002, I've also taught day and week-long seminars in the art of making comics for both amateur and professional groups.
Lectures
The ever-evolving visual lecture includes a cascade of fast-changing images (as many as 700 in a single talk) from the worlds of comics and communication. Topics include comics culture, storytelling, innovation, media evolution, and the power of visual communication.
See an example of my presentation style from the 2005 TED Conference.
Length is 40 to 70 minutes depending on the occasion. Q & A can last as long as my hosts want. I've never gotten tired of answering questions. See the sidebars for a sample listing of past and future engagements.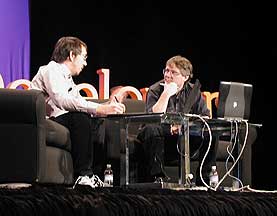 On stage with "The Sims" creator Will Wright at the Game Developers Conference, San Jose 2002.

For more information on bringing me out to your event or organization, please contact me at the address at bottom.
---
Teaching
In the Summer of 2002, I created a five-day seminar in comics storytelling for the Minneapolis College of Art and Design. I've since developed one, two and three-day versions as well. Each class combines in-depth visual lectures, discussions and intensive hands-on exercises.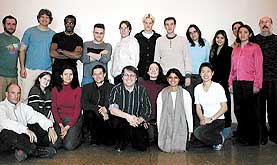 Class group shot from the 5-Day MIT comics seminar, 2003 (including Gan Golan, front fourth from left, who went on to draw the hit book Goodnight Bush!)

The focus is on visual communication, not virtuoso drawing ability. Newcomers and experienced artists are equally welcome.
Seminar locations have included such diverse locations as the Massachussets Institute of Technology, the Boston Arts Academy (a magnet high school) and a 3-day retreat in Spain for professional Disney comics writers.
For more details and pricing contact me at:


Recent and Upcoming
Events








February 23-24, 2013
Los Angeles, CA
Los Angeles Academy of Figurative Art
TWO-DAY WORKSHOP
Sign-Up!



February 27, 2013
Nashville, TN
Tapestry Conference
Lecture

March 14-15, 2013
Berlin, GERMANY
Tentative
Literature Festival Details TBA

March 21-23, 2013
Lethbridge, Alberta
CANADA
Galt Museum
Lecture/Workshop
Details TBA

April 4-5, 2013 (approx)
White River Junction, VT
Center for Cartoon Studies/Dartmouth
Details TBA

April 10, 2013
Santa Barbara, CA
University of California Santa Barbara
Regents' Lecture
8 pm
Campbell Hall
(plus other activites TBA)
Free and Open to the Public

---
About the lectures
"The best Powerpoint presentation I've ever seen didn't use a single bullet point. It was performed by Scott McCloud..."
-- Tom Negrino
Creating a Presentation in Powerpoint

"...so good it will make your head explode."
-- Garr Reynolds
Presentation Zen
---
About the workshops
"...[McCloud] proved a personable, highly knowledgeable and engaged instructor, one who plainly cared and had thought a great deal about his subject. His ability to distill, organize and present his material seemed appreciated by and productive for his students."

-- Rich Kreiner
The Comics Journal