July 3rd, 2015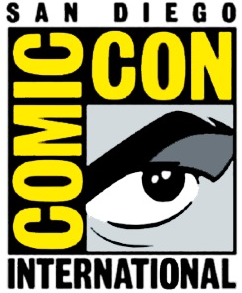 Comic-Con 2015 is around the corner!
I'm a special guest this year so the whole family is coming down to sunny San Diego once again.
Winter was born immediately following Con in 1995. She pointed out the other day that she'd been to every single day of Con held during her lifetime. So Wednesday's Preview Night is a must, to say the least…
SIGNINGS AND PANELS:
Thursday, July 9 • 1:30pm – 2:30pm
First Second: What's in a Page?
Led by First Second editorial director Mark Siegel, four cartoonists take a close look at their own work and each other's, looking in depth at the text and art in a single page of comics, and what's hidden under the surface: panel structure, emotional complexity, and creative influences. With Scott McCloud (The Sculptor), Rafael Rosado (Dragons Beware!), Aron Steinke (The Zoo Box), and Gene Luen Yang ( Secret Coders).
Room 4
Thursday, July 9 • 2:30pm – 3:30pm
Comics Arts Conference #4: Eisner vs. Eisner: The Spirit at 75
Panelists Scott McCloud (Understanding Comics), Michael Uslan (Batman v. Superman: Dawn of Justice), Trina Robbins ( Pretty in Ink: American Women Cartoonists 1896-2013), Karen Green (Columbia University), Jared Gardner (Ohio State University), and moderator Danny Fingeroth (Disguised as Clark Kent: Jews, Comics and the Creation of the Superhero) discuss the two major phases of Will Eisner's career. Beginning with the 1940 creation of his iconic character the Spirit, used by Eisner to tell stories of sophistication and depth, the discussion will then shift to his 1970s reinvention of comics, catalyzing the literary comics movement with A Contract with God, the first of many graphic novels he'd create.
Room 26AB
———————-
Friday, July 10 • 10:00am – 11:00am
Spotlight on Scott McCloud
Text and images-the combination of these two is what makes a comic. But how do you move beyond that simple fusion to create a true story, with characters, plot, and narrative depth? Renowned, best-selling authors Scott McCloud (The Sculptor) and Gene Luen Yang (Secret Coders) discuss what goes on behind the scenes when telling stories in graphic novel form, as well as the creative development of McCloud's bestselling graphic novel The Sculptor.
Room 9
Friday, July 10 • 11:30pm – 1:30pm
Signing at the First Second Booth
Booth 1323
———————-
Saturday, July 11 • 12:30pm – 2:00pm
Signing at the First Second Booth
Booth 1323
Saturday, July 11 • 4:00pm – 5:15pm
Signing at the CBLDF Booth
Booth 1918
———————-
Sunday, July 12 • 12:00pm – 1:00pm
Signing at the HarperCollins Booth
Booth 1029
Stop by and say Hi if you can make it! Larry Marder always said it's the "gathering of the tribes" and so it is. And the gathering is bigger than ever.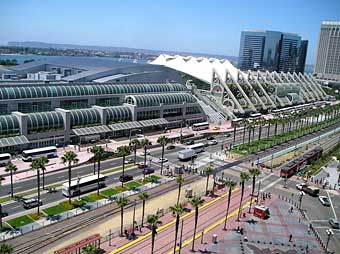 January 18th, 2012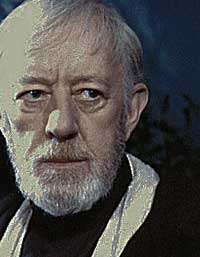 I'm going to continue to be in Hibernation much of this year while working on the book, but as long as the entire Internet rolled over and growled this morning, you can add my growl to the chorus.
Have a great 2012!
November 21st, 2011
Things are pretty quiet here, while I concentrate on my graphic novel in the coming months.
Did want to take a moment though to acknowledge the unspeakably sad news that cartoonists Tom Hart and Leela Corman have lost their little girl, Rosalie Lightning. There's a fund to contribute to, if you'd like to help with the practical aspects of the coming weeks, and of course, the condolences have been pouring in. This note by their old friend and mine Jon Lewis feels about right to me. These are deeply loved members of our community, and with good reason. Their beautiful family deserved a better road.
August 1st, 2011
…because they got more help than anyone expected!
(Though you're welcome to buy the book when it comes out, of course.)
In the Independent Pavillion at San Diego, one of my former workshop students, the talented Jean Kang, told me about Womanthology and how their Kickstarter had rocketed past its goal.
Phenomena like Kickstarter are among the many reasons I understand and support Peter Laird's decision to wind down the Xeric Foundation grants. This massive network of talent that we interact with on a daily basis has plenty of homegrown solutions for hungry artists up its sleeve. The days are gone when lone cartoonists had to turn to a lone source for help in entering a single door.
I'm glad Xeric was there all these years, but I'm happier still that there's still so much more potential on the horizon.
—
Update: HAPPY BIRTHDAY, WINTER! Our little girl is 16 years-old today, and visiting NYC with her Mom (Sky got Shanghai with Dad, so Winter asked for Broadway and there's no way Ivy would pass up that trip!). They've already seen Catch Me if You Can and Billy Elliot. Wicked and The Fantastics, still to come.
July 27th, 2011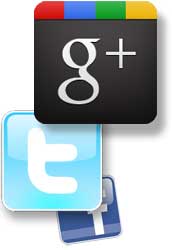 Another thing that happened while the blog was asleep: I joined Google Plus.
I don't spend much time on social networks. My life is broken down roughly into a hierarchy of Work, Family, Food, Sleep, Friends, and Recreation and that last one usually involves family if possible. Also the first one takes up a huge part of each day.
Still, I've found my Twitter account useful for short bursts sent out to many people (about 230,000 followers as of this morning, though that seems to include more than my share of bots), and Facebook, well… you kinda have to have Facebook. So I do. But I've never been a fan.
Yesterday, I asked on all three a hypothetical question: If you had to get rid of either Google+ or Facebook forever, which would it be.
Despite being only a few weeks old, G+ users (in 142 responses, as of this morning) were nearly unanimous that they'd nuke FB without batting an eyelash. My Facebook fan page followers (my personal page is pretty small and hard to link to) offered 34 responses, with less enthusiasm, but mostly stood by the service. Twitter… well, take a look.
Google paid me to do the Chrome comic a few years ago, so I can't ever claim to be 100% impartial, but the truth is I kinda love Google Plus so far, and will probably shift my attention there much more than Facebook as the service grows.
What little attention I can spare for these things anyway. Still have a book to draw!
July 26th, 2011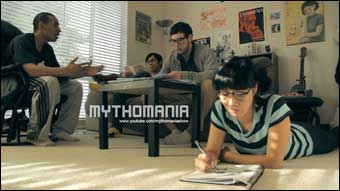 Okay, we've moved apartments and gone to Comic-Con and back. Let's get back to babbling about random comics news.
By far the coolest thing to happen in comics while I was on break these last few weeks was the debut of Derek Kirk Kim's new video series Mythomania.
I have a cameo in the first episode but I'd be highly recommending these wonderful videos even if I wasn't in it (oh Hell, especially if I wasn't in it).
It's a wonderful and funny portrait of aspiring young cartoonists so dead-on, it feels to me like I've known them for years.
Watch the first three episodes right now, and see if you don't fall in love.
Thanks to everyone who came out to see us at Con, and to all our friends for filling our days with happy reunions and crazy conversations. It's my family's Thanksgiving (complete with the eating too much) and the year wouldn't feel complete without it.
May 24th, 2011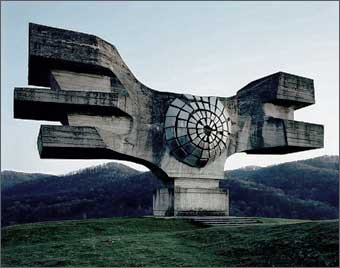 This has nothing to do with comics, but these haunting photos of abandoned Yugoslavian monuments have to be seen to be believed. Link via Paul Kedrosky and Tim O'Reilly.
Meanwhile, word comes from Dennis Vogel of his initiative to create a standardized set of Comics Metadata Specifications. Take a look at what Dennis has so far and see what you think.
[Update (via Carol Tilly): Apparently this effort has a predecessor.]
May 16th, 2011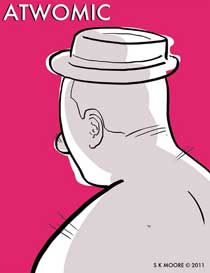 Stewart K. Moore sends word of a new experiment, via Twitter, to create 100 parallel interpretations of the same story.
He has plenty of info in his blog entry today. The action starts at the comic's brand new Twitter feed.
In related news: Are hash-bangs really necessary, The Internet? I've stripped one out of the above Twitter url, and it still… kinda works, but I just don't understand why any new innovation (cool javascript tricks) should be allowed to reduce the functionality of a really useful old one (easily shared urls).
[Mom: You can ignore that last paragraph.]
May 6th, 2011
Usually I take the week off from blogging while traveling but I kinda already did that while working on the lettering posts and videos, so…
As I've said on numerous occasions, Shaenon Garrity is Always Right. And you are hereby ordered to read her new column at TCJ (and not just because I'm name-checked in it, I promise).
Jorge Cham tries his hand at some RSAnimate-style lecture visualizations. Nice stuff. I'd love to see this become a new genre in education.
Meanwhile, it looks like a Minnesota political hack is pissing on Neil Gaiman this week. Neil is a friend, so I'm not remotely impartial on this, but I hope our community in that state will insure that this moron looks back on this particular bit of gutless pandering as a political mistake in the not-too-distant future. Full details on the event in question are provided by the more rational posters at the link (which I got via Roger Ebert, of all people).
Political bottom-feeders aside, I had a great time today at SVA's Open IxD Festival. Thanks to the organizers, teachers, and presenters for putting on a great series of presentations.
Oh, and apropos of nothing, I say Parker Posey was born to play Lois Lane, and it's really sad that no one ever made it happen. Who's with me?
Have a great weekend!