The Original Zot!
1984-1991
Zot! was my first comic and ran for 36 issues; ten in color, twenty-six in black and white. Thanks to HarperCollins, all of my black and white stories have been collected in a swanky new volume, but the original color run #1-10 may be a little harder to find.
---
The Color Collection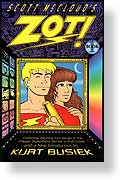 The late Kitchen Sink Press collected all ten color issues into a single 288-page color book back in 1997. KSP is gone, but the books are out there somewhere and a good option for completists, if you can find one.
Those early Zot! issues were my first published work and it shows. It ain't Shakespeare, but it has its moments. Many apologies and excuses can be found in my intro to the book. Kurt Busiek, who was there and suggested the name way back in 1983, wrote a forward to the book as well.
The first four color issues were also collected by (the long-departed) Eclipse Comics in 1985, though that volume—despite having a cooler cover—covers less ground and may be even harder to find.
---
Individual Issues

Issues of the original comic book series turn up from time to time, though they become rarer with each passing year.
For completists who have the Harper volume, be on the lookout for #1-10 (the color run) plus issue "#14 1/2" (the Matt Feazell fill-in) and #19-20's "Getting to 99" drawn by Chuck Austin. The latter appears in layout form only in the Harper book. The original issues also have some interesting features like the letters pages, Feazell's wonderful back-up pages from #11-36, and the short-lived "Magic Shop" by Kurt Busiek and Dan Spiegle in #8.
Oh, and hunt down Matt Feazell's mini-comic Zot 10 1/2 if you want to really complete the set.
---
"The classic retrofit of the post-war comics gestalt."
-- William Gibson
"Zot! is refreshing, lively, and truly entertaining. No contemporary comics artist does as much with the classical iconography of post-World War II flat yellow comics as Scott McCloud. Although McCloud appears to return us to a simpler time, we soon realize his simplicity masks a world of rich complexities."
-- Samuel R. Delany
"Zot! is wonderful. It's a cross between Robert Heinlein and Tintin, and should please readers of all ages. It certainly pleased me and my children."
-- Greg Bear
"Zot! is a remarkable graphic narrative. The clean lines, graceful composition, brilliant colors, and buoyant, joyous feeling show his chief influence is the great C. C. Beck. But I detect touches here and there of Steve Ditko, the architectural complexities of Frank R. Paul, the zany exuberance of Dr. Seuss, the psychedelic neo-deco flowering of Peter Max, and the pre-deco fantasies of W. W. Denslow. The resulting synthesis is something purely McCloud's. Couple this bright drawing style with a similarly energetic story line, and you have an irresistible mix."
-- Richard A. Lupoff